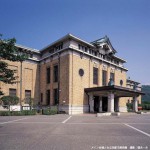 InterviewApril 1, 2015 UP
An exhibition with breadth and depth– accumulating the city of Kyoto's resources and treasures in a multi-layered exhibition
Shinji Kohmoto
(Parasophia: Kyoto International Festival of Contemporary Culture 2015 Artistic Director)
Interviewer:Eriko Kamimura (Kyoto Art Center Art Coordinator)
'Parasophia: Kyoto International Festival of Contemporary Culture 2015' started on May 27th of this year. In response to the recommendations of The Kyoto Association of Corporate Executives, Kyoto Prefecture and Kyoto City have worked together to establish an organizing committee for spring 2015. Currently there are many international art festivals, but exactly what kind of festival is Parasophia? What is unique about an international art festival held in Kyoto? Amid the attention that the festival is gathering, I asked artistic director Shinji Kohmoto to tell us more.
―Mr. Kohmoto, up until now you have had much experience as the artistic director of Yokohama Triennale 2001. Now you have been appointed as the artistic director of Parasophia. Please tell me how you were offered this role and why you accepted.
I believe there is no point in holding an international exhibition in Kyoto if we simply aim for something that is similar to other international exhibitions currently being held all over the world. In Kyoto we will explore a slightly different direction.
The seed for Parasophia was planted when the Kyoto Association of Corporate Executives' representative secretary Mikio Hase stated 'If we leave Kyoto as it is now the city is going to lose more and more of its vitality, we must accumulate new stimulus and cultural vitality in the city'. Hase insisted to Kyoto's financial circles and business community the necessity of organizing a recurring international arts festival. The Kyoto government administration agreed to this movement and decided to offer their support. It was at this point that the concept of Parasophia: Kyoto International Festival of Contemporary Culture 2015 was formed. Compared to other government-led international exhibitions, the formation of this exhibition is very unique, and this is one of the reasons I wished to help.
Organization and direction are incredibly important when holding an international art festival such as this. I believe I can use my past experience as well as verify and examine the successful and unsuccessful parts of other international exhibitions and identify what is possible in Kyoto. Furthermore, I feel I can give advice on how to create an administration that is simple and effective in order to realize excellent content.
(left to right) Daisaku Kadokawa (Mayor of Kyoto City), Mikio Hase (Chairman, Kyoto International Festival of Contemporary Culture Organizing Committee), Keiji Yamada (Governor of Kyoto Prefecture)
―You are quoted on the Parasophia website, 'as well as attracting the intellectual curiosity of art officials, in order for the general public to appreciate the exhibition, I would like to make the content of the festival multi-layered.' Organizing an international contemporary art festival in Kyoto will gather the attention of many arts officials, but are there any plans and ideas to make the content more accessible and enjoyable for the general public?
To some extent, I have been aware of selecting work that is attractive and appealing, work that will invite people's curiosity and encourage them in to the museum. Work that I feel, for example, families that have gone out with no pre-knowledge of the festival will be able to experience and enjoy. However, although these works are perhaps entertaining or easily accessible, they are in no way shallow, and if one think's a little deeper they allow the viewer another experience. These works are fun but also mysterious and strange. I hope these pieces provide an entrance in one's mind to new experiences.
In terms of PARASOPHIA, as an exhibition, I hope to offer a rich and wide range of content. Moreover, I want to seriously involve the people who are going to communicate and convey this content to viewers on the various sites around Kyoto. I imagine this to include people such as schoolteachers, art teachers, those engaged in arts education and so forth. Kyoto should be full of these kinds of people.
Next year, we should have even more excellent out reach staff and I hope and would like them to use their initiative to speak and communicate to the people they meet on site.
―In June the first series of the open reach program was organized and the William Kentridge exhibition has been planned for February 2014 as a pre-event. How does the administration (launched in May 27th 2013) see these programs and events in relation to the main program?
The other day, when the administration had just been completed, it was said that a two-year preparation period is usually used to simply investigate various artists. However, perhaps because we have no previous experience, we don't believe this is enough. We will continue to organize and publicize various small events and hope in turn this will keep increasing the people who are connected to and understand Parasophia.
I would like to create a platform on which an international exhibition like this can be created on an ongoing basis in Kyoto. The two-year preparatory period is to grow and gain experience with the people that will help and be involved in the real thing in 2015. This is what the open research program and pre events are for.
The William Kentridge exhibition will be held as a pre-event in February 2014. This work, which gained a great reputation at last years Documenta 2013, will be exhibited in Asia for the first time and is called 'The Refusal of Time'. The exhibition is sure to be one which Japanese art officials can't ignore. The work itself is complex in content and structure and the construction process will be technical and difficult. For those who are willing to participate as staff, we would like them to experience and learn together about the different processes that are involved in realizing an exhibition. This will include things like communication with the studio, construction of walls, construction of equipment and adjustment of acoustics. In the process of preparing for Parasophia we want to meet people who hold an interest in the management of art and exhibitions and will help liven up the festival.
William Kentridge: The Refusal of Time (2012) (c) William Kentridge
―I think many art officials are looking at what kind of show (including the preparatory stage) Parasophia is developing in to. However the artist selection process and fleshing out of the main program starts now. Do you have any particular guidelines for what is in the show?
There are no particular guidelines, however on a slightly different note, there is one thing I am anxious about. I feel that currently Japan has become to homogenized and there is a lot of intolerance. This feeling of fear of things one doesn't know about or can't understand. The idea of being unable to comprehend that there are things in the world that one can't understand. It is often that I think that this kind of thinking, this inability to accept different ideas, is something that is increasing. To understand and accept from the start that there are many things in the world that one does not know about is a much healthier way of thinking, and I feel it is necessary to continue with these efforts even if they sometimes seem useless.
Artistic Director, Shinji Kohmoto
In the Netherlands, throughout the 1970s and 1980s, the government's attitude towards art and artists was very tolerant. It was a time when artists could claim a subsidy that they could live off (although a lot of documents were necessary to receive this).
During the 1980s there was no particularly remarkable work being created in the Netherlands, however in the 1990s, artists resident to the Netherlands suddenly started producing very high quality work. This is an illustration of how we must all think carefully about the importance of investments that are not immediately effective.
In regard to the artists that will be exhibiting, I think artists that have some connection with Kyoto will make up most of the numbers. Artists will come because of the rich human resources that Kyoto has to offer and not 'just because it's Kyoto city'.
Kyoto is a really rich accumulation of various types of human resources and knowledge and in the wake of Parasophia, I hope various diverse and dispersed peoples will link organically. I hope there will come a moment when Parasophia can transform into something else. I want to continue to make Parasophia an exhibition that is fun as well as one that offers a profoundly rewarding and complex experience. I believe that if viewers, as well as those involved in the festival feel that it might be a good idea to hold this kind of international exhibition in Kyoto again, we can say that Parasophia has been a success.
―I see. It seems the capacity Parasophia has for interacting on an individual level is what makes it unique. With Parasophia (and its multi-layered character) acting at the center, I feel that from here human resources will be nurtured and cultural events, educational programs, and all kinds of activities will develop.
Kyoto is a city that holds huge potential and it is a treasure trove for talent and resources. Of course it has an attractive atmosphere and mythical charm; the shrines, temples and natural landscapes, as well as its historical traces and marks that are often referenced and quoted. However, what defines a really interesting project that comes to Kyoto is one that interacts with the people and the environment here. Projects that build and layer all sorts of different ideas mean these new ideas and creativity then find a new direction. I believe it is the accumulation of these kinds of activities that has made Kyoto a more attractive city.
One of the venues, The Museum of Kyoto
Many past international exhibitions, through the exhibition of contemporary art, have realized a certain level of internationality without considering the character or uniqueness of their venue. Furthermore, many international exhibitions held all over the world have become a showcase for various artists' new works. In other words, the speed at which we are metabolizing information is fast and rapid consumption and competition for the latest art information has become a reality. In Kyoto we don't want this. Rather than something that is only transient, artists and visitors will stop a while and think in the city of Kyoto. Their expression or thought process will change a little, leaving a new accumulation in Kyoto and further strengthening the power of the city. This is the kind of international exhibition I am imagining.
【※1】「Parasophia: Kyoto International Festival of Contemporary Culture 2015」is an international exhibition organized by Kyoto International Festival of Contemporary Culture Organizing Committee, Kyoto Association of Corporate Executives, Kyoto City and Kyoto Prefecture. To be held from 7th March 2015 until 10th May 2015 at Kyoto Municipal Museum of Art and The Museum of Kyoto and other venues.
Official Website: www.parasophia.jp/en
【※2】Led by the Artistic Director and Curatorial Team in the run up to Parasophia: Kyoto International Festival of Contemporary Culture 2015, a program that will widen the exposure of research studies to the general public.
Friday, June 21, 2013 [Lecture] Akira Mizuta Lippit "Like Cats and Dogs—Cinema and Catastrophe"
Saturday, July 27, 2013 [Report] Koki Tanaka & Mika Kuraya "abstract speaking—participating in the Venice Biennale"
interviewed at Parasophia Office on June 6, 2013