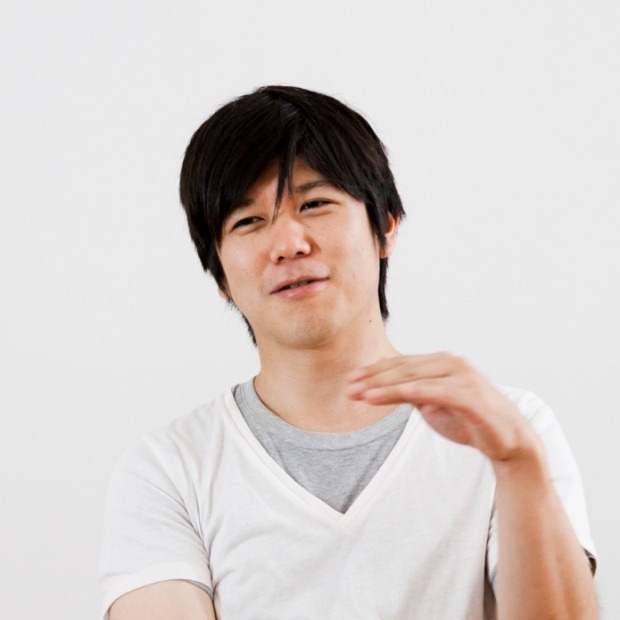 InterviewOctober 9, 2012 UP
If I find it interesting, I will give it a try even if people say it's impossible.
Lyota Yagi
(artist)
interviewer:Eriko Tsukide、Keiko Ota
Photographer:Sho Ogasawara
Watching, listening carefully, and touching: In Lyota Yagi's work, what we perceive from his art is the distinct existence of the things of which we are not normally conscious. His art makes viewers aware of time and sound through his simple yet unexpected approaches.
Lyota has participated in many exhibitions both domestically and internationally.
We interviewed him on the background and thinking behind his artwork at the studio space he set up in Kyoto this year.
-You have continued to make art since you were a university student. Did you originally want to become an artist?
I didn't have a particular interest in becoming an artist. I wanted to be a designer rather than an artist. I found it more fitting for who I was and that's why I enrolled in the design department at my university. But creating a graduation project changed all that. Since graduating, opportunities to exhibit my work have gradually increased. I think "artist" does not mean something fixed but rather shifts depending on the circumstances.
I still do design work alongside my art, like designing printed materials and making my own website to manage my artwork portfolio. Both art and design require the same type of awareness; the effort to find the best balance in communicating with the viewer, without explaining too much, without persuasion, is pretty much the same.
-Your art focuses on sound and time. These research themes are also being advanced in the fields of science and philosophy. Are you conscious of this?
I am not a musician, so if asked about music I don't know much. Each field has its own set of rules. At the same time, though, thinking outside the box can be difficult for people working within a field. When I used to share my apartment with a musician, I told him about my idea for a piece titled "vinyl," a record made of ice. He told me that the idea is not realistic. But he was shocked when I showed him how the ice record actually makes sound. Some ideas seem unreasonable to experts but might turn out interesting if you give them a go. An outsider like myself who does not have expertise can overturn conventional wisdoms and try experiments that no one dares to try.
At the same time, though, I still want experts to view my art. For example, my piece "Sound Sphere," a sphere wrapped in cassette tape, was well received by the Magnetics Society of Japan and a design engineer for Victor VHS. The work has not been mentioned in any academic texts yet but it is good that we both had something we could gain from the artwork.
I often enjoy reading technical and specialist books. These books do not offer answers to questions like "Why does time exist?" or "Is there gravity?" No one really has answers to these questions. But exactly because there are no definite answers, it's fun to form and reaffirm hypotheses.
MUSEUM OF CONTEMPORARY ART TOKYO/photo:Ryota Atarashi
-Your work revives the sensitivity buried in everyday life and gives viewers new experiences and awareness.
I personally don't think I am trying to make work that is difficult to understand. Nor do I target any particular audience, although inevitable differences between groups who respond favorably and those who don't surface as a result. I think firstly it is important to make art that can be enjoyed, and I believe it's not entirely impossible that simple and fun aspects can coexist with elements that allow viewers to think in more complicated ways. How, say, children and critics perceive artwork differently or express the same opinions is also fascinating.
For me a point of departure for making art is finding something no one notices or questions in day-to day life. For example, when a human sees things, we are supposed to see two images because we capture an object with both left and right eyes. But strangely, we see only one image. The two images perceived by both left and right eyes become one image in our head. Even with knowledge about the system of visual perception, it's still a mystery when you think about it carefully. And as I research the system further, this idea surfaces that if we give different visual images to our left and right eye, a new image could emerge in our head. I think what's important is to question conventional ideas and affirm them by researching and actually experimenting with them.
-Setting up your studio in Kyoto and landing a job as a full-time lecturer at Kyoto University of Art and Design, you must now be in a different environment to your previous ones. Does this change your work?
I have been renting my studio space since March and it is still under construction. I have also started holding meetings more frequently for exhibitions and work in my studio. At first I was worried that I wouldn't be able to concentrate on my art if too many people were coming in and out of the studio. But that wasn't the case at all. It's fun to exchange ideas about making art with visitors and doing so helps me to organize my thought. Plus I have my own time to be alone at night so this new environment doesn't harm my work routine.
I also don't separate teaching from making art. Rather than teaching my technique and knowledge to students, I tend to think about unfamiliar fields with them. Setting an assignment for students is also similar to creating artwork. Doing these three things—art, design, and teaching—simultaneously is a good balance and has good effects on each respective field.
-The scope of your activities seems to have expanded too, such as going to New York for a residency. Will you continue to be based in Kyoto in the future? Please tell us your future prospects.
When I was in New York for the six-month residency, I had some very valuable experiences making artist friends and going to see art and theater performances. But New York for me was not a place for making art; it was a place to meet people and experience different cultures.
Kyoto in this sense is much more proportional in that while it gives me an environment to concentrate on my work, it is also a place where people intersect more moderately. I hope to continue to work in Kyoto. However, I don't think too much about the future! There are so many things I am interested in but one year from now my interests will probably change. I want to create what I want at my own pace.
■ date:19th August 2012 (Sun) ■ place:Lyota yagi's studio

Lyota Yagi
Lyota Yagi was born in 1980. He graduated from the Department of Space Design, Kyoto University of Art and Design. He makes sculptures, video art and installations exploring themes of time and sound. Selected major exhibitions include "Takamatsu Contemporary Art Annual Vol. 02" at the Takamatsu City Museum, "Yokohama Triennale 2011 – Our magic hour" at Yokohama Museum of Art in Kanagawa, "MOT Annual 2011 – Nearest Faraway" at the Museum of Contemporary Art Tokyo, and many others. In 2010, Yagi lived in New York City as a grantee of the Asian Cultural Council. Since 2012, Yagi has been a full-time lecturer at the Department of Space Design, Kyoto University of Art and Design.
What is your favorite area in Kyoto?
Right now I think the area that is interesting is around Nijo Station, where my studio is. It's comfortable to live in and more lively than when I was a student. I often go out around there.
Eriko Tsukide、Keiko Ota
(left) Eriko Tsukide
Tsukide currently studies on the Creative Writing Course, Kyoto University of Art and Design. She is part of the editorial team of Uryutsushin, the University's PR magazine. Tsukide is actively working towards becoming a writer and editor.

(right) keiko Ota
Ota is currently enrolled in the Communication Design Course at the Department of Information Design, Kyoto University of Art and Design. With the hope of getting involved in art in a broader sense, Ota manages a gallery and works as a writer while also studying design.