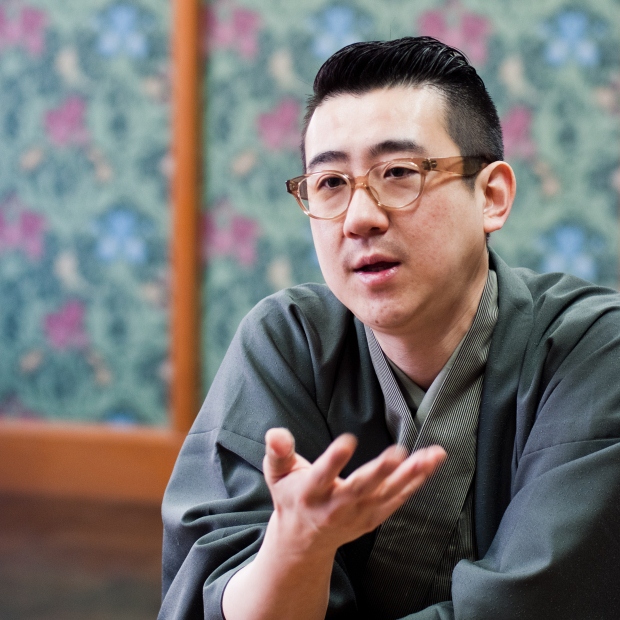 InterviewJuly 9, 2012 UP
Continue to tell appealing Kotsuzumi by my way
Mr. Naoyasu SOWA( a Noh play musician and Kotsuzumi drum player at Koryu School)
interviewer:Mayumi YAMAMOTO/Makoto KURATANI
Photographer:Nobutada Omote
He plays his drum called Tsuzumi and produces awe-inspiring and clean sounds at the stages. He won the Kyoto City Prize for Young Artist in 2009 and his activities as an artist are broadening since then. What is his daily routines? As a Noh play musician, what does he think about Kyoto in the future?
- You have built your website earlier than other Noh players. I heard that many people have visited your website because of its friendly atmosphere and having cute illustrations.
I don't want people to have a difficult and rigid image of Noh play. I am making efforts so that Noh play could openly receive everyone. Noh players seldom appear in commercials ads. I think it is meaningful to spread Noh play by means of my forte, that is Tsuzumi drum performance. Especially after becoming a member of "DO YOU KYOTO? Network" which was established aiming at passing over the beautiful Earth to the future from Kyoto, I had more chance to know people from different fields. This is very nice. Before that, I lived only in the world of Noh. Now I have much wider view. In the world of Noh, no one carries name cards. However influenced by others, I am carrying my name cards now. Since only my father and my grandfather play Tsuzumi, I actually thought that everyone would know that Tsuzumi players must be members of Sowa family. I had never gone out into the world. As a child, everyone treated me like a tender plant. (Laugh) I was brought up here running on the right track which was already set there for me. I will continue to go ahead along this track.
-Sowa family has been producing the master players of Tsuzumi. Your grandfather Hiroshi SOWA (a Living National Treasure) and your father Masahiro SOWA are playing Tsuzumi. Have you ever wanted to have some other jobs or wanted to run away from Tsuzumi?
As a child, I had yearned to become a postman or a taxi driver whom I though as cool or genius. As for Tsuzumi, it was my daily routine and not something I liked or disliked. I have missed my lessons only once in my life for which I was severely scolded by my father. It was when I was in the second grade of elementary school and I was given a new bicycle with which I wanted to play. After that I have never missed the lessons and never wanted to run away from it.

- You are particular about Kimono as well as other types of clothes and accessories. What things are you very conscious about?
I wear Kimono all the time including the time when I come to Kyoto Art Center. I think the change in Kyoto's atmosphere is becoming more suitable to Kimono. I think the culture of Kyoto is synonymous to the culture of Japan. Tsuzumi is also suitable for Kyoto and its climate. I place importance on what is suitable for the occasion. My likes and dislikes for thing such as Tsuzumi or Kimono does not count. My grand farther often says that some sad music pieces like "Sumidagawa" and "Hagoromo" should be played in such a way that will give the real feeling of "Sumidagawa" and "Hagoromo". When you teach Tsuzumi, you should act as the Tsuzumi Teacher. I want to promote Tsuzumi in such a way that when asked to name a typical Japanese musical instrument, the first answer that would come to every ones' mind should be Tsuzumi. Tsuzumi itself is a composite art like Noh plays. I would like to use my typical characteristics to create new idea using Tsuzumi. (Laugh)
I heard that you think highly of your grandfather, Mr. Hiroshi SOWA.
It has been 14 years since my grandfather became a Living National Treasure. For me, he is my teacher with a nickname "Ojiichan" or grandpa. I want to be a source of energy for him. I am very tired every day, however I always think of my grandfather and give priority to him in my daily life. I feel like I must be the best grandchild in the world. He will be 87 years old (88 years old counted by Japanese way) at the end of April but he is still performing well. We will hold the commemorative concert for his Beiju Anniversary (88yers old anniversary) on April 27. He will play "Hagoromo" which is the first piece a beginner is supposed to learn. I will play "Higaki".

Tsuzumi is a simple instrument. However, I think it must have a profound aspect.
It is like a woman. She will be hurt if not treated properly. Dry weather is not good for her skin. She will be shining after a good care. She looks fashionable in the elegant skirt. Tsuzumi is the same. It is like a human being. One Tsuzumi can produce different sounds by different players or in different environments. Tsuzumi produces various sounds. I think it important to continue appealing Tsuzumi.

- Do you think the culture and arts of Kyoto will change in the coming 10years and 20 years?
It is time for us today to rethink about many things including Japanese culture and Japan itself. I never think that Kyoto would become worse in the future. It will be a better place in 10 years. As a matter of fact, I have a habit of thinking negatively, but in this case I have to be positive. Because I have to go at full speed along a track already laid out for me. Sometime I run out of energy and feel out of spirit, but only thing I can do is to move forward.
■ date:12. April 2012(Thu) ■ place:Kyoto Art Center

Mr. Naoyasu SOWA
Mr. Naoyasu SOWA, a Noh play musician and Kotsuzumi drum player at Koryu School
Born in 1973 in Kyoto. He takes lessons of Kotsuzumi from his grandfather Hiroo SOWA (a Living National Treasure) and his farther Masahiro SOWA. He started taking lessons on the 6th of June at the age of 6. At the age of 10, he performed "Kokaji" on the stage for the first time. At the age of 13, he performed in a Noh play called "Kiku-jido" for the first time. After December 1995, he played "Okina-tohdori" "Ishibashi" "Ran" "Dojoji" "Uguisu" "Sotoba-komachi". Recently he holds lectures and events at several places to introduce the charms of Noh, classic performing arts and Tsuzumi. In the summer of 2011, he held the event "以付打小鼓、囃也". For the first time, he held a concert on himself "Naoyasu SOWA plays, vol.1 "Seijakuno honoo ?Noh <Aoinoue>-" in the autumn of the same year. It could be said that he has a positive attitude towards his activities.
The Regular Member of Noh Play Association, Kyoto Chapter; Kyoto Ambassador for "DO YOU KYOTO"; Member of the Board of Kyoto Noh Music Association. Won Kyoto Prefectural Cultural Incentive Award in 2012, Won Kyoto City Prize for Young Artist in 2010.
Petit 鼓堂 (JP)http://www.p-kodou.com/index.php
(EN)http://www.p-kodou.com/english.php
What part of Kyoto do you like best?
My house's garden. I like moss. It is beautiful in fine day. I always finish watering them before going out even if I don't have enough time.