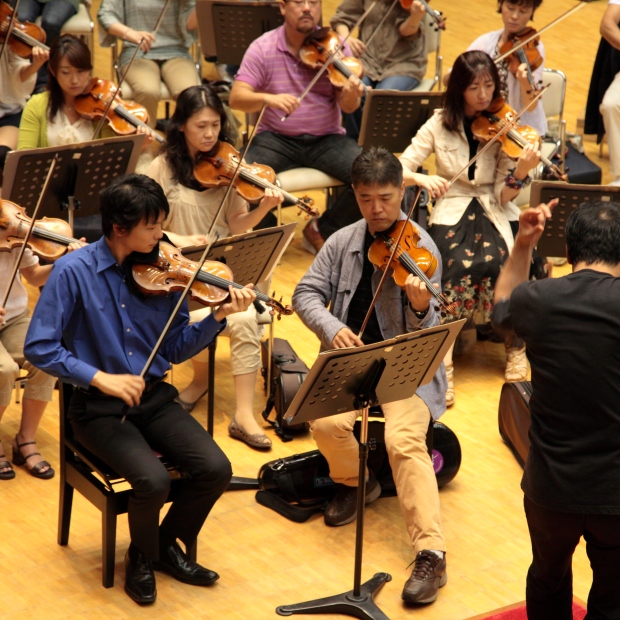 InterviewOctober 1, 2012 UP
Standing between the audience and the orchestra, I always want to send the music that can be impressed.
Takashi Izuhara
(Violinist)
interviewer:Eriko Kamimura
Photographer:Natsuko Ishikawa
Takashi Izuhara has been serving as the concert master of Kyoto Symphony Orchestra since 2009. He won the Kyoto City Award for Young Artists in 2011. He speaks about what is important in playing music.
―What prompted you to start playing violin?
When I was 5 years old, I had a chance to have contact with many musical instruments at a summer seminar in New York and found myself fascinated by violin. At that time I thought violin like a toy. Influenced by my elder sister who was learning to play the piano, I could continue to take violin lessons.
―ou have had many chances to study abroad. When you were taught by Igor Oistrakh in Belgium, what did you learn from him?
He taught me how to express music by using different tones. I also learned to intensively pursue the sounds. He was so strict at lessons. However I was very much inspired by all of his passionate lessons which were focused mostly the works of romantic composers. It was also a wonderful opportunity to listen to his splendid sound.
―Tell me the charms of orchestra.
There are many. One of them is the impact of sound produced by about 80 people as one. Various sounds produced by different musical instruments are also very attractive. The large works such as the symphonies by Mahler need more than 200 players and the audience can enjoy the sound that gives tremendous impact and diversity. The orchestra is the group of many musicians with different attitudes toward music. They are common in that they want to create better music.
Every member is walking ahead to reach the peak of ideal music, like climbing a pyramid. When I feel this sensation at the concert, I am always filled with joy.
―I observed the rehearsal and found that you have talked with the conductor very often. What is the role of concert master?
Concert master is often referred to as a bridge between the orchestra members and the conductor. The conductor oversees the music as a whole but he never produces sounds. Whereas concert master has to lead the members by producing desirable tones that will be suitable for the expression and atmosphere the music requires. He also has to prepare for the accidents during the concert so as to keep performing properly. For instance, when the music is out of time, I have to bring the members back in time by the breath and eye expression, instead of using hands and body gesture.
I have to learn the parts of other instruments, that is to know when some parts begin to play and finish playing. Therefore I have to memorize the scores of all parts.
―After being appointed as the concert master of Kyoto Symphony Orchestra in 2009, how have you played your role?
Since it was my first time to belong to the orchestra, my first year was devoted to experience everything. I have learned that how to communicate with conductor is very important. Serving as the bridge between the conductor and the members of the orchestra, I have determined not to inform the members with clear wards what I wanted to say.
I rather give my opinions to the members in daily basis so that they would know what I want. I hope to communicate with them to the extent that all the members are unconsciously walking to the same direction.
While playing violin, one time I have to oversee the whole members, and other time, I have to play my part passionately. So I try to keep my sense of composure. I try to listen to the sound coming from afar produced by other instruments. Since I sit closest to the audience, I can feel their direct reaction. Although their reactions are soundless, they will come close to us and give us power.
―What is your future goal?
This might be a bland answer. As the concert master, I would like to make a better music. I would like to play music in such a way that many people would be satisfied with the concert of Kyoto Symphony Orchestra. This is a simple answer but I think this is very important. I also hope that not only as an orchestra member, I would like to play as a soloist and as the member of chamber orchestra to introduce the splendor of music.
■ date:25th June 2012(Mon) ■ place:rehearsal hall of Kyoto Symphony Orchestra

Takashi Izuhara
Izuhara studied in New York under David Oistrakh's favorite disciple, Anna Pelekh. After graduating top of his class from the Violin Course at Toho Gakuen Music High School in 1997, Izuhara completed the Soloist Diploma Course at Toho Gauen College Music Department. Enrolling in the Royal Conservatory of Brussels, he then transferred to the Hamburg University of Music and Theatre in 2006, graduating with distinction and earning a diploma. Upon returning to Japan in 2007, Izuhara worked as a guest concertmaster for the Tokyo Philharmonic Orchestra, Japan Philharmonic Orchestra, Sendai Philharmonic Orchestra, and Kyoto Symphony Orchestra, where he then became permanent concertmaster in 2009. Audiences are enchanted by the technique and sensitivity he has fostered in orchestra and chamber music.
What is your favorite place in Kyoto?
There are many places I like. I like Daigoji Temple at the time of cherry blossom. Every year I visit the temple to see the weeping cherry.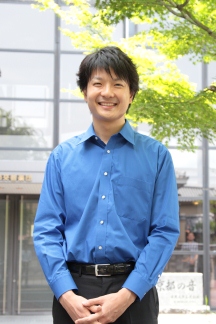 Eriko Kamimura
She work at Kyoto art center as an art coordinator from April, 2012 and engage in production, editing of Kyoto Art Box.